Best Places to Date in Singapore
Meeting your date for the very first time is an important milestone. It follows that you want it to be special and memorable for an experience that you both will remember fondly. For the picture-perfect first date, location is a crucial factor. If you have any anxieties about organizing the perfect location for your first date, worry no more. We have got you covered with our comprehensive guide on the best places to date in Singapore. Continue reading on to pick a spot from our list of the best places to date in Singapore.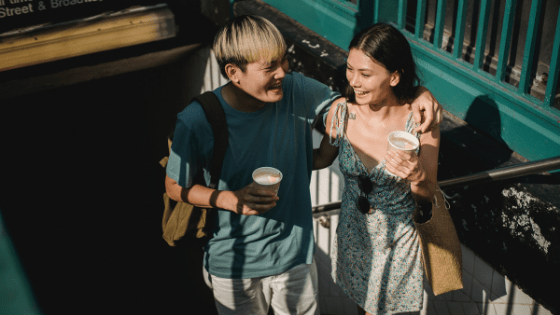 So You Found an Ideal Match Online. Then What?
So you have found the perfect match on our online dating profile at TrulyAsian. You've been interacting with each other for weeks, and you seem to be hitting it off. You have common interests, you live within the same radius, and you genuinely enjoy spending virtual time with each other. The next logical step for your relationship is to meet each other in the flesh at long last.
In sum, your relationship on the online dating site is smooth sailing and effortless. Not that we want to burst your romantic bubble, but this won't always be the case when you step outside of your common comfort zone. For starters, you and your significant other may be secure with each other on the online dating site, but it is not a guarantee that this perfection will carry over when you meet for the very first time. For this reason, planning ahead of your much-awaited first date is crucial. Every factor needs to be just right. If not, the date may end up being awkward, or worse, an utter failure. Avoid a dreadful dating experience with your virtual match with the help of our guide and our top suggestions for the best places to date in Singapore.
Planning the Perfect Date With Your Virtual Match
"Everybody knows the pressure of a first date: Searching for that perfect outfit. Hunting for ways to be engaging. Dissecting each detail when it's over to check for mistakes. Dating can make even the most confident person lose his cool."

– Kelly Starling
While on the dating platform, you and your virtual match seem to mesh together effortlessly. We have all heard of the lines, "we are just perfect for each other," and "we even finish each other's sentences!". While this is all nice and rosy, we have to warn you that having the perfect relationship online does not translate automatically to the perfect interaction in person.
For one, the first date will always be awkward in one way or another, and while your conversations go smoothly online, we guarantee that you will come across some minor bumps on your first meeting. With these unavoidable tumbles along the way, it becomes crucial for you to have the rest of your date perfect.
If you are at a loss about where you should begin with your planning, it helps to look at the bigger picture to identify the areas you need to cover. The following factors are the standard details that you need to plan to have a memorable experience.
Should the date be in the day or night?
Casual or formal date setting?
Where to meet up? At the agreed location for your date or meet somewhere else beforehand?
Date over food or through an activity like going to the movies?
Wear something versatile to prepare for any eventuality?
Why Location Is Key to Having the Perfect Date
"Location pertains to feelings – feelings are bound up in place."

– Eudora Welty
Of all the factors that you need to consider for your date with your virtual match, consider location as one of the most crucial. Think of the location as the setting of a movie scene or the backdrop of a painting. In more ways than one, the location plays a direct hand in setting the mood and ambiance. When the location is perfect, it triggers a wonderful memory that you and your beloved would revisit gladly.
The Best Places to Date in Singapore
"Singapore has always held a special place in my heart."

– Asha Bhosle
Lucky for you, there is a wide array of fantastic options for date places to go in Singapore. The country abounds with glittering destinations and unforgettable activities to make your date with your virtual match a memorable one. The categories for date places to go in Singapore come aplenty, as well. You can go from posh places to go on a date in Singapore to cheap places to go on a date in Singapore. Whichever choice you make will undoubtedly be a good place to go on a date in Singapore.
Our top recommendations below range from the more traditionally romantic places to go on a date in Singapore for couples willing to all out to cheap places to go on a date in Singapore that is no less special for couples who are budget-conscious.
Recommended Reading: Singaporean Dating: How to Find a Date in Singapore

Romantic Places to Go on a Date in Singapore
Mark your date with your virtual match as a truly romantic occasion to remember with three of the most decadent dining destinations in Singapore. These recommendations are perfect for virtual matches who are not afraid of going over the top and quintessentially romantic on the very first date.
MOTT 32 SINGAPORE
Mott 32 Singapore is a favorite amongst serious foodies and prominent travel magazines. It is a chic and opulent restaurant that boasts of a luxurious Chinese menu and exquisite interiors for the overall experience. You can find this elegant restaurant at the gorgeous Marina Bay Sands.
1-ALTITUDE GALLERY & BAR
For a romantic restaurant and club lounge with a dazzling view of the Singaporean skyline, visit 1-Altitude Gallery & Bar. You can locate this ambitious establishment atop a multi-concept dining and lifestyle destination that features fine dining, a luxurious cocktail menu, and the world's highest al-fresco bar.
DUSK RESTAURANT & BAR
Dusk Restaurant & Bar is yet another elegant restaurant that offers a stunning view of Singapore and sumptuous Central European cuisine. Its backdrop highlights the picturesque sights of Harbourfront and Sentosa Island. Visit the restaurant with your virtual match at sunset for a gorgeous and cinematographic evening together.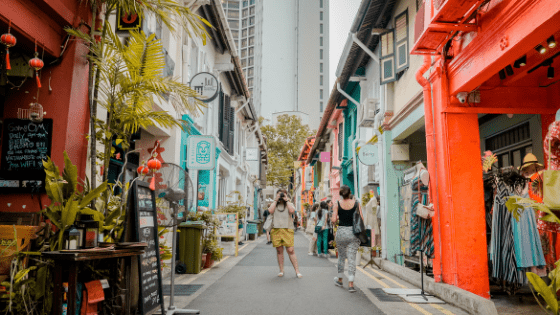 Budget-Friendly Places to Go on a Date in Singapore
For less extravagant couples who do not fancy going all out on the first date, an excellent place to go on a date in Singapore is just as easy to find even when you are on a tight budget. There is an abundance of booming, elegant, and romantic destinations in the country that you can enjoy without breaking the bank.
MERCI MARCEL TIONG BAHRU
This Instagrammable cafe ticks all the marks for chic interiors and an elegant menu. It describes itself as a mix of bohemian and French-Balinese styles and even offers vegetarian-friendly and gluten-free options. You can find Merci Marcel at the heart of the creative district in Singapore.
THE SCIENCE CENTER SINGAPORE OBSERVATORY
Is there anything more romantic than stargazing? At the Science Center Singapore Observatory, you and your virtual match have the entire universe conspiring to give your date a dazzling view. Now that is one date that you will surely remember. Stargazing in the Observatory is available on Fridays, from 7:45 PM to 10:00 PM.
THE HERITAGE GARDENS
The gorgeous flora and rich culture that Singapore has to offer takes center stage in the Heritage Gardens and makes for an inspiring setting for your date. What is more, the gardens have free admission and are open until late into the night. It features four-themed gardens that intertwine with the heritage of Singapore.
Recommended Reading: Fun Date Ideas in Singapore

Some Other Tips for Your Date in Singapore
Take a pick from any of our top recommendations for the best places to go on a romantic and memorable date in Singapore. Now you will never have to worry about setting the right mood or ambiance for your date with your virtual match because each selection is picture-perfect and magnificent in its unique way.
As you prepare for the date in Singapore that you and your beloved have been eagerly waiting for, remember that even the best location cannot work miracles if your dating game is not on point. You could be at the most spectacular location, but it will not amount to anything if you are not at your best. While the location plays a significant role in setting the momentous occasion, it's not as crucial as your demeanor during your date. To avoid any dreaded dating mishaps, keep the following tips in mind.
Act like your authentic self.
Treat your significant other with love and adoration.
Have fun together!
When you go by these additional pointers, you're sure to have an experience that you'll never forget in one of the many dazzling destinations that Singapore has to offer. For more dating tips and relationship advice, be sure to check out the TrulyAsian blog.